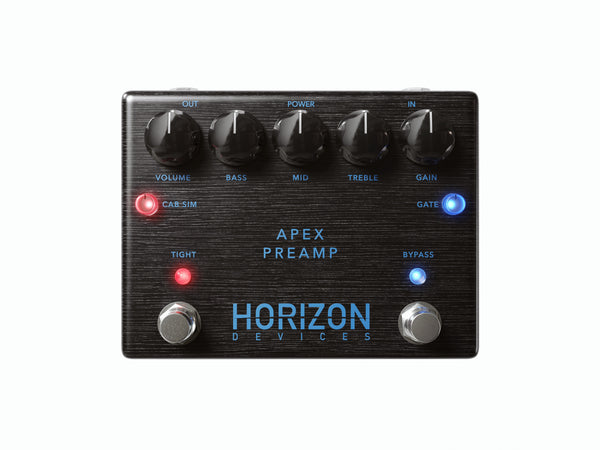 THE APEX PREAMP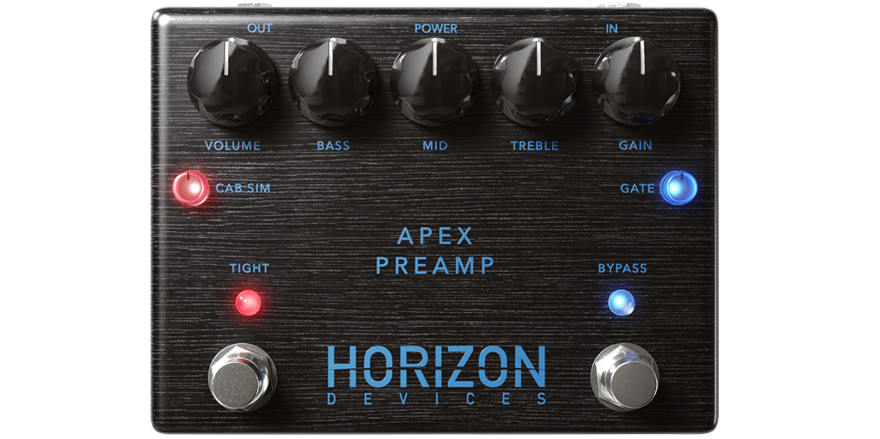 Cabinet

Turn the cab sim knob OFF when using a real cabinet. Turn the cab sim ON when going direct or into an interface.

Gain

Massive amounts of gain. Start at 0 and turn up until you reach desired saturation.

Tight Switch

Engage for more aggressive rhythm tones without adding more gain. Disengage for buttery leads.

Gate

All the way left completely removes the gate circuit. All the way right gives you a mega-tight & modern gate.
APEX PREAMP SPECIFICATIONS
APEX PREAMP SPECIFICATIONS

Designed to pair well with digital & tube rigs.

Built by MXR, guaranteed to last.

Perfect for the on-the-go recording guitarist.
LISTEN TO THE APEX PREAMP.
Misha Mansoor demos the brand new Apex Preamp! Monster chords, djenty breakdowns, and tight rhythms cut through and stand out in the mix with the Apex Preamp.

The Apex preamp pedal is a simple, all-in-one solution for metal guitarists looking for modern metal tone live and in the studio. It's quickly become one of my favorite pedals for on-the-go recording!
I'm really impressed with the Apex Preamp, it's innovative, it's a small footprint, it sounds good, it's not stupidly expensive, and to be honest it's such an easy pedal to use with great tones.
it's a pedal, it's a preamp, it sounds just great. You can use in a number of different ways and it's super versatile with a 3 band EQ, cab sim, tight switch, and tonnes of gain. I really dig it!
FAQS
Will you ship internationally?
We ship almost everywhere worldwide, except to Zimbabwe.
How much is shipping to my country?
Shipping is automatically calculated at checkout thanks to the magical internet elves powering our website.
What is a Preamp Pedal?
A preamp pedal is an amps clean or dirty channel in one convenient package. The Apex Preamp is a direct replacement to your favorite distortion pedal, an entirely new channel added to your clean amp, or a dirty channel replacement on your high gain amp. Check out our use case guides to see all the different ways you can add the Apex Preamp to your rig!
Can it do cleans?
With the right guitar and settings it can get pretty clean, it will behave dynamically with your guitar like an amp.
How do you justify the price?
To get all the features of the Apex in any other form you would have to buy: $250 boutique, all new high gain distortion pedal $150 custom, ultra powerful noise gate $180 Cabinet simulator $100 one off pedal similar with a tight switch Instead of spending $680 on 4 pedals you can spend less than half and get an Apex Preamp in one convenient pedal!
I already have a high gain amp, can I use this?
Yes! Blend the Apex Preamp with your existing dirty channel to get an all new distortion flavor! Just make sure to turn off the cab sim by sweeping the knob all the way to the left.
How does it pair with a power amp?
Perfectly! You can use your power amp to run the Apex direct into your physical cabinet. Just make sure to turn off the cab sim by sweeping the knob all the way to the left.
Can this replace my distortion pedal?
Yes! Use the Apex for a whole new distorted tone.
Will this work with my Axe FX II/Kemper/Line 6 device?
Yep! We made sure the pedal was voiced to cut through both high gain heads and integrate perfectly with digital modeling rigs.
Can I load my own cabinet IR?
The Apex's cabinet simulator is analog and built-in, meaning you can't change the impulse response. However, you can easily disable the cab sim by turning the knob to the left and use the Apex with your favorite 3rd party IR's.
What is the Cab sim modelled after?
The Apex's analog cabinet simulator is modelled after a modern 4x12 loaded with V30 speakers.
Does it Djent?
You already know the answer.
What are the power requirements of the Apex?
9V operation requires 29 mA and 18V requires 50 mA. We recommend running the unit at 9V. It will function at 18V but sounds best at 9V.
Can I use a battery?
Yes! A standard 9v works, in addition to a proper power supply (9v negative tip only).
Defective
Sounded GREAT when it was working......Bought it as a gift for a friend. Device started disconnecting at the input jack about 6 months after purchase. My friend tried to get ahold of customer service (about three months ago) to figure out whats wrong and see if its covered under the warranty. They stopped replying to his emails. He's left with a device thats un-usable. They claim to be "A company run by guitarists, for guitarists!" but don't make the effort to stand by their products.
Amazing
This pedal is all you need for an amazing chugging metal sound close to Orbit Culture sound if your have a baritone ofcourse. Just wish it came with the power supply adapter.
Small size with massive chug tones
Great affordable chug tones in a pedal platform. Plug straight in di or record through a cab either way you will get useable chug tones a paired with a wonderful noise gate to get even tighter stacato riffage. If your playing prog metal you can't go wrong with the apex preamp!
best pedal
Crazy at its own but add an Mxr 6 band after it and it is like Dime is sitting next to you.
Marvelous distortion and preamp pedal
This is one of my favorite pedal.
High gain, feeling like tube amp, good cab sim are very useful for me.