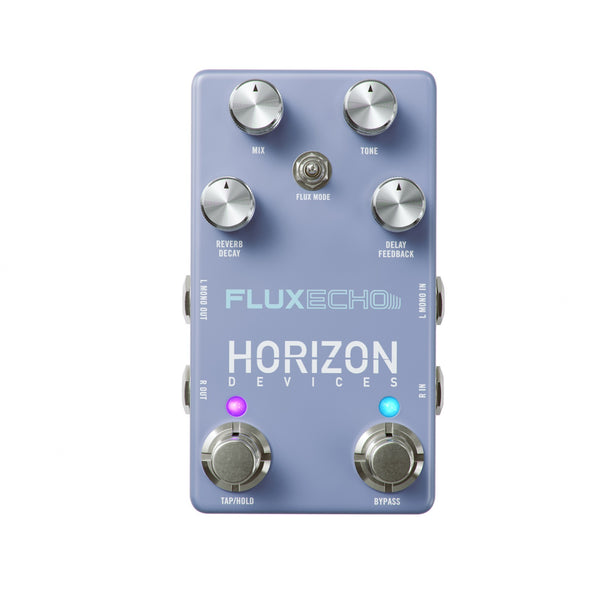 After over 2 years of design, testing, and tweaking we are so excited to finally be able to present our latest inspiration box: The Flux Echo!

It's the result of years of research & development, our community's great input and Misha's extensive delay collection ranging from vintage tape echoes to modern crisp delays...
Mono and Stereo I/O's: The Flux Echo is designed to work great with most setups including traditional mono rigs as well as stereo rigs with multiple amps/instruments, it even sounds great with synthesizers.
Flux Mode: Variable switch that allows 3 distinct voices: a warm, ambient reverb with clean analog delay repeats, a lightly modulated reverb with a smooth reverse delay, and a shimmer reverb with a tape-style echo.

Tap/Hold switch: Tap to set your delay tempo, hold to freeze both reverb and delay. Once you let go both will decay as set.

Bypass/Delay and Reverb Trails switch: Tap to turn the Flux Echo on or off.  Hold the bypass switch down while the pedal is on to enable or disable delay/reverb trails.
Power: The Flux Echo does not come with a power supply and cannot be powered via 9 volt battery, only by external power sources. The Flux Echo requires 300 mA via a 9 volt DC center negative power supply.
What a pedal!
I had read many reviews, and watched demo videos on the Flux Echo. I was not prepared for the quality, in sound and construction, that this pedal provides. Now I want 3 of them, so I can have the 3 different reverbs without having to change control settings. Seriously. It's that good.
Inspiration pedal
This pedal sounds great and helps me create the music I hear in my head. If you're thinking of buying one stop thinking and just buy one already! Thank you Horizon Devices
Flux Echo
From mild to wild! I easily found a sound that I really like. I'm a kinda "set it and forget it" player but I realize that there's a ton of options in this box. Works wonderfully with my Apex Pre as expected. Put more stuff out!
Satisfactorily Versatile
A decay and reverb pedal that does just that. Tweakable, but not overwhelming. Versatile, but not over-engineered. I'll take some space here to write specifics:
You cannot use either effect by itself. Even at the lowest setting, you will always have at least one delay repeat. You will always have a bit of "room" from the reverb. (The reverse delay "flux" setting becomes extremely useful for getting rid of rhythmic content from the delay.)
You don't buy this pedal to use one effect or the other. You buy it to use everything it offers, all at once. And what it offers is a professional, cinematic soundscape, useful in creating blankets of ambient atmosphere to hard and fast delay to cavernous shimmer.
I usually keep my mix around 9:00. Anything more becomes surprisingly washed. Which is neither good nor bad, I'm just not trying to write my next ambient album.
The mix knob is super useful- it's basically a low pass filter, darkening or brightening both effects with the single knob.
The delay repeats truly become infinite at the utmost clockwise turn. The reverb also has some extreme time stretch as well.
If I could change one thing, I'd want presets. Even just three presets for each Flux setting would be a godsend.
Love this pedal!