Progressive Tension Dean Lamb 8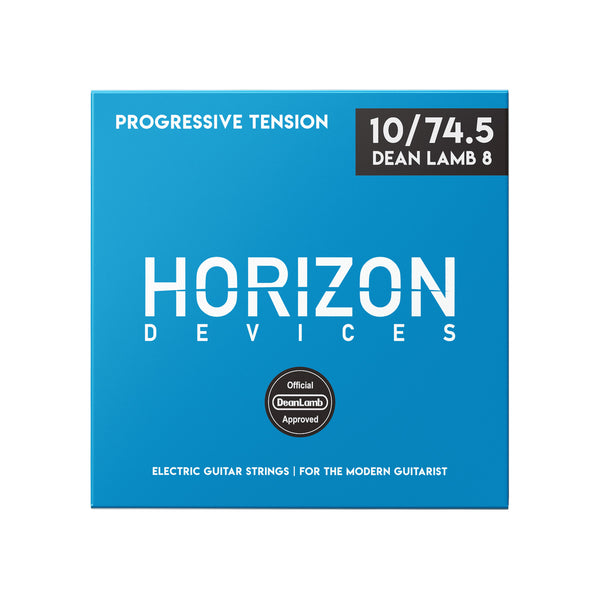 Progressive Tension Dean Lamb 8
Progressive Tension Dean Lamb 8: 10 13 17 26 36 46 59.5 74.5
Buy 3 sets get FREE shipping (US only)
Introducing the Progressive Tension Dean Lamb 8 signature set, specially designed and meticulously tested by Dean Lamb to handle even the most technical and precise 8-string playing possible  
"When Horizon Devices first hit me up about doing a custom set of strings, I was very excited. Putting together my own set has been a dream of mine for a long time; finding the exact strings I love within a company's existing string offerings has always been a challenge.

With Horizon Devices, I was able to build precisely what I wanted, even adding some half gauge strings to make this set perfect for my playing style. These are absolutely my favorite strings I've ever played - zero complaints.

Grab your Dean Lamb signature 8 string set now!"

- Dean Lamb
Horizon Devices strings forge together our proprietary Wired Guitarist Progressive Tension technology with the legendary craftsmanship of Dunlop manufacturing to bring you the ultimate strings for the modern guitarist. Each set has been vigorously tested and optimized for the perfect feel right out of the box for every tuning and play-style. This set was designed for an 8 string guitar with a scale length of 27"

Progressive Tension Dean Lamb 8
To be expected
The quality and tones of these strings are everything I could want in a string.
hell yeah
they make me go hell yeah
Great strings, but no taper.
Buyer beware: these strings are probably fantastic, as the other gauge sets are, but I have to dock a star because there's no taper. For a company that boasts about modern strings for modern players, you'd think they'd have some kind of taper so that you don't have to drill out your tuner head to fit the 74.5. The other eight-string set has the same problem. Without a taper, now I'm out fifteen bucks because I don't want to damage my guitar or wind the string into a fat, thick piece of coil. If you've already drilled out your tuner head to fit thick gauges, then these will probably be fine. I'll stick to the smaller gauge sets for now until they start tapering.
Best 8 string set I've ever used
Dean Lamb is one of my favorite guitar players ever so I had to try these out! Great job Misha these are fantastic strings! I'll be buying again !