0.88mm Flow Premium Precision Plectra 3 Pack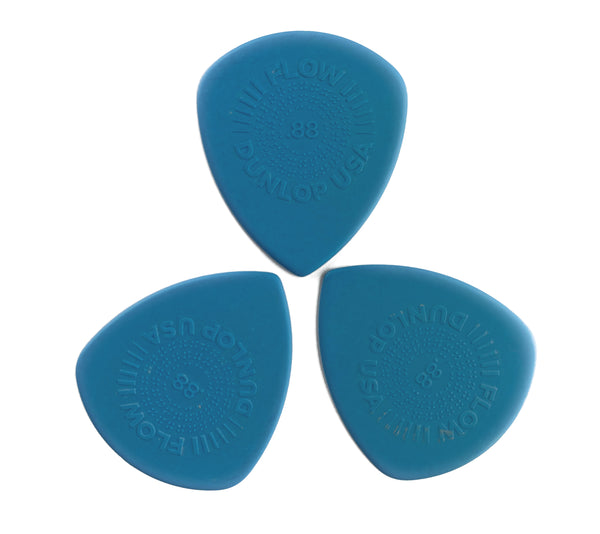 0.88mm Flow Premium Precision Plectra 3 Pack
This players pick pack is collaboration with Dunlop, featuring one of our favorite pick shapes in one of our favorite gauges.The super snappy 0.88mm gauge produces a nice, bright attack the perfectly compliments the precision and speed provided by the Flow Pick shape.
Great picks
I'm mostly a jazz III picker, so trying these larger picks was something I did out of curiosity. I can't say I'm switching from one to the other as I use different picks for different situations, but these were easy to adapt to from the smaller jazz III's and play very well!
88mm guitar picks
I'm really liking these picks!! I highly recommend giving them a try!!
Great pick!
Love the "Flow" shape. Tone is great and very consistent!
0.88mm Flow Premium Precision Plectra 3 Pack
.88 flow premium precision plectra
They are my favorite guitar picks, I've been playing for 25 years and I have tried many picks and I am going too stick with these ones. My only complaint is I had too wait over two weeks to get them. While I was waiting for my order I saw that you are making the jazz 3 picks. I have never tried those ones they were always sold out at music stores so I asked my fellow metal heads and they said that those picks were great for metal music. I think in the future I would like to try out your version of that pick. It would be great if you guys sent me a trial pack or a discount that would be great. I turned my students onto all your products and my friends that were not believers they just wanted to stick with Boss products. Word of mouth is the best sales pitch someone can give and I put the word out about you guys all the time. So if you could send me a pack of the .88 jazz 3 picks to try I could get you more customers. Keep up the good work thanks for getting my order to me.