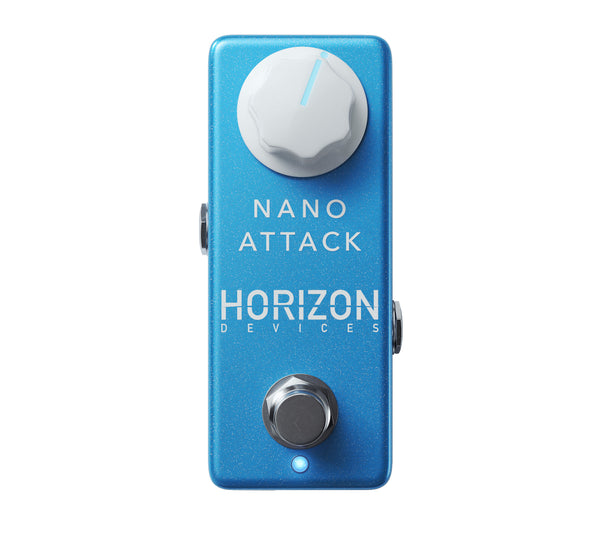 The Nano Attack is the simplest pedal solution for perfect modern metal tone ever! We've taken our uber popular Precision Drive and slimmed down the best parts into one affordable mini pedal with:

Attack: 6 attack settings let you dial in the perfect amount of low end tightness. Left is loose, right is tight and modern.
Volume: 6 on the Nano Attack's internal volume trim pot is roughly equal to 10 on a Tubescreamer, giving you tons of headroom. Start with the volume at noon.
Bright: Dial the Nano in for any amp with the ultra-flexible internal brightness trim pot. Start with the bright at noon and dial to taste.
Compact: Bring the Nano Attack anywhere and put it on any pedal board with its compact and durable design backed by MXR's 1 year warranty!
Rips my ears off
I connected this to my amp, adjusted the settings for 10 seconds, and the distortion just rips my ears off. I LIKE IT!
Finally sound as Dimebag (RIP)
with connecting to Fortin Zool Noise gate and to Krank Krankenstein we have finally sound as god, as Dimebag ... thx for your products
Unbelievable
I use this in front of a Laney Super Cub 10 combo, a mid gain boutique style amp.
The Nano Attack turns it into a fire breathing monster, an absolute must for anyone wanting a tight modern metal tone.
Worth every penny.
Best modern metal boost pedal in a cute package
This makes even super tight sounding amps sound even tighter. Just buy it.
Absolutely incredible
The Nano Attack is an amazing pedal. It is the perfect boost for any type of amp, and makes any guitar sing while remaining really tight. 10/10 would recommend!