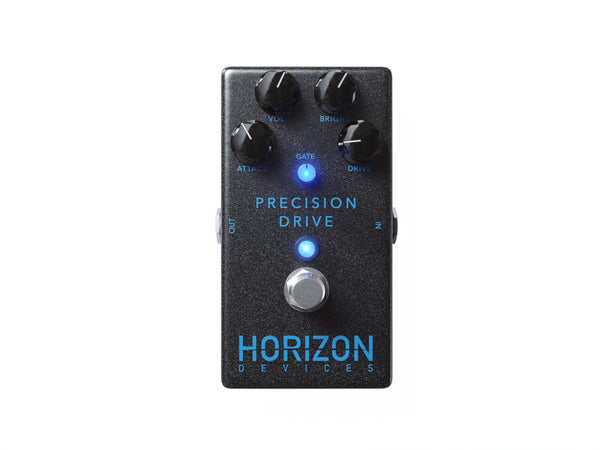 Never worry about fighting your tone or your gear again with the Precision Drive, the first modern overdrive made by guitar players for guitar players. The Precision Drive can take any set-up, both tube and digital, and turn it into the perfect modern metal rig with its precise tonal carving controls.
THE PRECISION DRIVE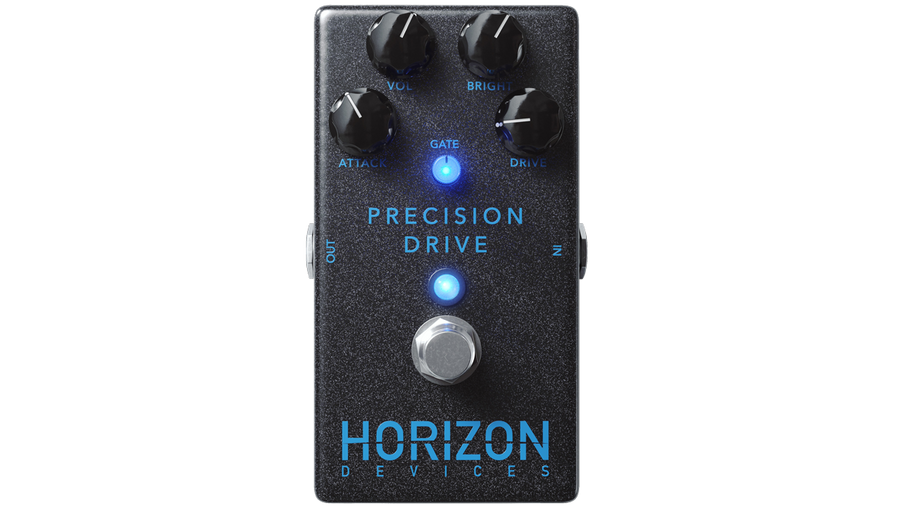 Volume

6 on the Precision drive is roughly equal to 10 on a Tubescreamer. Start with the volume at noon.

Drive

Start at 0 then slowly turn the drive knob up to around 1-2 until you get the level of saturation you'd like.

Attack

Towards the left is more of a lower mids punch. To the right can get you very defined, pick-y, and modern tones.

Gate

All the way left gives you a very loose, subtle gate. All the way right gives you a fast, hard, and modern gate.
PRECISION DRIVE SPECIFICATIONS
PRECISION DRIVE SPECIFICATIONS

Designed to pair well with digital & tube rigs.

Built by MXR, guaranteed to last.

Free US shipping and affordable international shipping.
LISTEN TO THE PRECISION DRIVE.
Misha Mansoor demos the Precision Drive in a wide variety of applications. Aggressive chugging, big chords, technical solos, and mid-gain pieces all sound full, rich, and cut in the mix. Hear what the pedal really sounds like for yourself.

The Precision Drive is the Overdrive pedal I always wanted and that I was kind of shocked no one had made. Given how many rock and metal musicians use ODs to boost and tighten their amps, I would have thought there might be a solution aimed at that crowd, but there just wasn't. So I figured I might as well bring that pedal to life, if anything, just so I could have it for myself!
The Precision Drive is an awesome addition to your rig if you want to breathe new life into your amplifier.
The Precision Drive gives me tone shaping options I always wish I had when it came to tightening up my gain tones. It has a distinct and unique character that compliments my sound in a way I never expected. In front of an amp or a modeler, and as a standalone distortion, the Precision Drive is everything I need in an OD pedal.
This Precision Drive is awesome! I struggled with getting note definition on a lot of my other drive pedals. It all just sounded muddy... but the attack knob really helps notes cut through. The gate feature is really useful too for cleaning up gainy parts but also I find that this pedal interacts with my ac30 amp in a really cool way to produce really cool feedback. And on top of it all it makes an excellent clean boost!
There are so many great overdrives available today. Some excel at pushing your amp into lead territory, while others work better at tightening and focusing your already driven amp. I have yet to find a single OD that is able to achieve both of these approaches as effortlessly as the Precision Drive. Between the Attack and Bright switch, you have enough control to shape the front end of anything you put it in front of. I use mine to tighten and focus my rhythm/riff sounds and it does exactly what I ask of it. I'm a big fan.
FAQS
When does the Precision Drive ship?
Right now! The Precision Drive will be available until the end of time.
Will you ship internationally?
We ship almost everywhere worldwide, except to Zimbabwe.
How much is shipping to my country?
Shipping is automatically calculated at checkout thanks to the magical internet elves powering our website.
What's the deal with the accidental damage plan?
The Precision Drive already includes a 1 year manufacturer defect warranty (that basically never comes into play since MXR does such great work). The accidental damage plan will replace your pedal for anything but water damage for one year. Ran it over with your van? Check. Trampled by thousands of fans that want the secret to your tone? Check. Just follow the instructions after buying the coverage, and send your pedal back if you need it replaced!
Does it djent?
If you want it to.
Will my 7/8 string sound good with the Precision Drive?
The Precision Drive is voiced to work with lowering tunings better than any other pedal. Not only does it work great for standard 6 strings, but it'll handle that multiscale 14 string you've been waiting to use for years just fine.
Can I use a battery?
Yes! A standard 9v works, in addition to a proper power supply (9v negative tip only).
How does it have a noise gate built in? Isn't that really expensive?
Overdrives can be the noisiest part of your chain, and are essential for the tight sound on many modern metal recordings. We didn't want to compromise on what the community wanted, so we made sure you could get that entire sound from one pedal. If you don't want extra tightness, turn it to the left side of its range and it will only eliminate noise.
Will this work with my Axe FX II/Kemper/Line 6 device?
Yep! We made sure the pedal was voiced to cut through both high gain heads and integrate perfectly with digital modeling rigs.
Does it work like a normal OD?
Yes and no. It does boost your signal, but it is built from the ground up to tighten high gain tones. It won't be confusing to dial in but will work easier than what you're used to. It also does vintage crunch and lead tones great as well!
You say it's a community-driven pedal. How does that work?
We spent hundreds of hours asking modern guitarists what they need out of pedals. For example, we've poured through the data of countless polls from our Facebook group of over 7500 members.
Absolutely stellar!
I play everything between Pop Punk and Metalcore and this thing tightens up my low end and makes for some solid chugging and tight breaks that I crave! I run through an EVH 5150iii-s and I didn't believe I could get a better tone outta this amp but this pedal changed the game for me! Thanks for making this pedal, well worth the money!
Precision Drive
Great pedal. Adds a nice overdrive to a clean amp but really tightens up the sound on a high gain amp. Awesome. Might be an always on pedal.
Amazing pedal which is worth the all the reputation it built. My tone for my 7 strings has never been better and I couldn't be happier with the wide range of different settings I can get. Always will recommend it
Super fantastical!!!
I was only able to use captures on my quad cortex of the precision drive before. But now owning one…. 🤯. I love it!!!
Such an awesome pedal!
I've never had better reamps. This pedal makes my guitar tones so unbelievably tight. The bottom end is nice and focused, and everything else is just perfect. The only thing I don't like is the fact that the gate can not be turned off. I really wish it could be since I don't like trusting a gate since I cut silence by hand. But other than that, the coolest pedal known by far.