Progressive Tension Heavy 6 (Misha Preferred)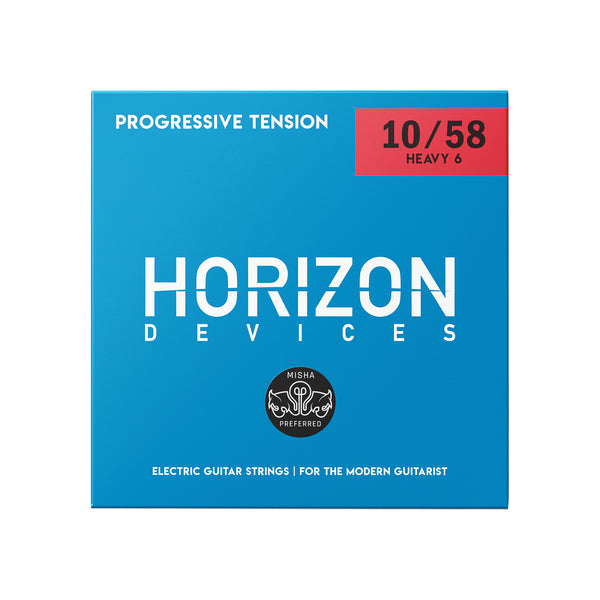 Progressive Tension Heavy 6 (Misha Preferred)
Progressive Tension Heavy 6: 10 14 19 30 42 58
Buy 3 sets get FREE shipping (US only)
This set was specially designed by Misha Mansoor for his studio and live use.
Horizon Devices strings forge together our proprietary Wired Guitarist Progressive Tension technology with the legendary craftsmanship of Dunlop manufacturing to bring you the ultimate strings for the modern guitarist. Each set has been vigorously tested and optimized for the perfect feel right out of the box for every tuning and play-style. This set is perfect for Drop C on a 25.5" scale guitar or for Drop B and a looser feel.
Good for about a week.
Great feel when they go on. Tune up fast and play well. The wound strings sound and feel good for about a week and are dead by 2. 4 different sets now 6 & 7 string with the same result.
Great but life is short
I really love the tension of these. They feel amazing in Drop C or AGCFAD tuning but they seem to die faster than my other brands of choice.
Awesomeness
Always does the trick for my lower tuning on my 7 string. All other strings fail in comparison. Thank you
Great for open C
I've played exclusively in open C for years because it just feels better to my brain, but it's an odd tuning as far as string tension goes. These feel infinitely better than what I've been using (10/52), and the strings themselves are great quality.
Exactly what I was looking for
Tension on all strings are perfect, all the heaviness without sacrificing bend tolerance