Progressive Tension Ultra Heavy 6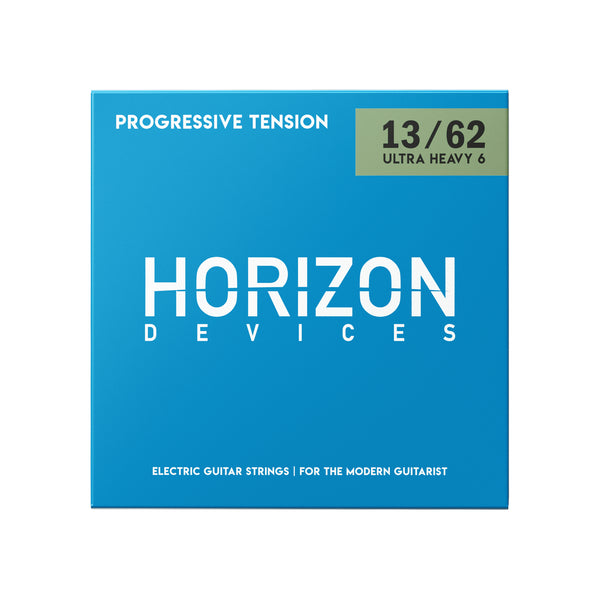 Progressive Tension Ultra Heavy 6
Progressive Tension Ultra Heavy 6: 13 18 26 36 50 62
Buy 3 sets get FREE shipping (US only)
Horizon Devices strings forge together our proprietary Wired Guitarist Progressive Tension technology with the legendary craftsmanship of Dunlop manufacturing to bring you the ultimate strings for the modern guitarist. Each set has been vigorously tested and optimized for the perfect feel right out of the box for every tuning and play-style. This set is perfect for B standard on a 25.5" scale guitar.
Horizon progressive tension ultra heavy 6 are great but.
These ultra heavy 6 really are an excellent string and if I played 6 string guitar I prob would be completely satisfied, but I play 7 string and my fav string by far is progressive tension 7,10-65, Misha Preferred set. The thing is I can't get them because Horizon Devices is almost always out of them and I can't find them anywhere and thus had to go ultra heavy 6 string set and add a high e 10. This ends up bieng a good deal lighter on some strings, but I like Horizon prog tension so much that I make do. Thank you
Made all the difference for my low tuning
I don't usually leave reviews (at least not serious ones) but these strings were a game-changer for me. I play in lots of different tunings, but being a fan of architects I started dabbling in the AADGBE tuning which is great for riffage and heavy chugs. I originally put some of the Progressive heavy strings (I believe .10 to .58?) on my LTD and it held the tuning pretty well but the ultra heavy strings really stole the show. Sustain is top notch and perfect for chugging and heavy beatdown rhythms. Suffice it say I'm sold and I'll be buying more as I need them at least for my LTD. Thanks Misha and the Horizon crew!
Ultra heavy 6
These strings are great for my current project in B standard. Very comfortable not to sloppy not to tight and they stay in tune just fine on a fixed bridge.
I'll definitely be purchasing more.
B standard tuning for a 25.5" scale length
Trust the distributions. These strings feel great!
Nice!
High quality strings, one and all!
I was expecting them to be lesser compared to D'addario nyxl bridge cables BUT these feel lighter to play, are much more smooth, AND they are bright!
Drop A# has never sounded so sexy!