Progressive Tension Standard 6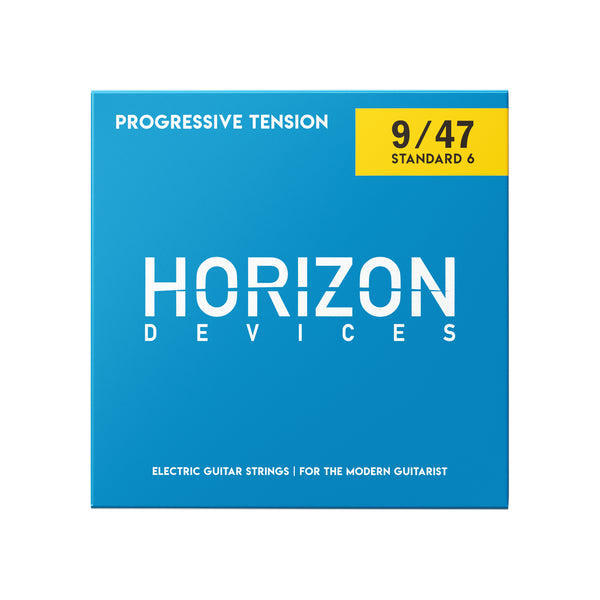 Progressive Tension Standard 6
Progressive Tension Standard 6: 9 12 16 23 33 47

Buy 3 sets get FREE shipping (US only)
Horizon Devices strings forge together our proprietary Wired Guitarist Progressive Tension technology with the legendary craftsmanship of Dunlop manufacturing to bring you the ultimate strings for the modern guitarist. Each set has been vigorously tested and optimized for the perfect feel right out of the box for every tuning and play-style. This set is perfect for standard tuning on a 25.5" inch scale guitar.
Just flawless strings
I am very satisfied with feeling and how smooth it is during the play. Planning to use on all my guitars.
Yo
These strings played like butter on my strat dude I also play 7 string guitar with the misha preferred heavy set and transitioning between guitars is almost unnoticeable
Nice but…
Might be 6th time I buy these strings.
Still good, but still not distributed in Europe… :'( please fin a distributor in EU !
Amazing
I did not expect the comfortability that I got playing these. I didn't think that it would make such a difference. I even made a custom set of my own with a different string company having closely matched the gauges from HD's Prog 6 but not had the wound gauges 1mm heavier. Though the other company's were also good and their approach to string tension was similar - Horizon Devices' progressive 6 string set was definitely the more comfortable set. They're not sticky and they're not overly slick. They're just a great set of strings. NGL, having them partner up with Dunlop made me skeptical. But after having tried them; HD's will probably be my go to for at least my 6 strings. Need to try the 7s and 8s next!