Horizon Devices Jazz III Pick Pack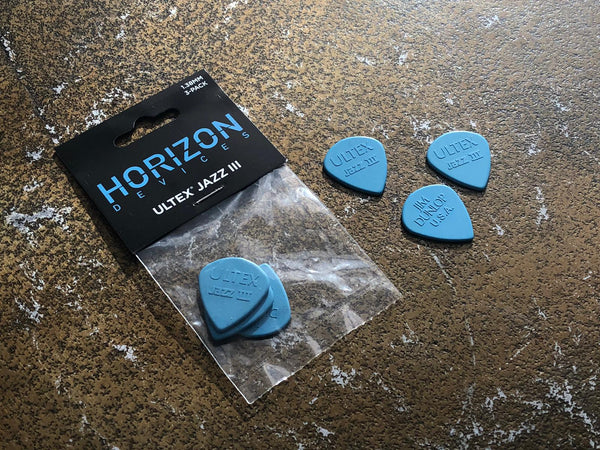 Horizon Devices Jazz III Pick Pack
Horizon Devices is proud to offer the number 1 choice for hard rock and metal shredders worldwide - Dunlop's Ultex Jazz III. Combining fast attack and compact design, this pick is the perfect choice for the guitarist who like flexibility, maneuverability, and precision.
Now available in Horizon Blue!
Ultex Jazz III You Can Actually Find on the Carpet
I've been looking for an Ultex Jazz III that isn't clear yellow plastic. I'm tired of picks being gone forever if I drop them and these blue ones are it.
Hell yeah!
My favorite picks! Also the flow picks are amazing 👏
Exactly What I Wanted
These 3 pick packs of Horizon blue Jazz iii picks are great. I wanted a color to tell my Jazz picks apart from my friends, and now I have this awesome color with the same Jazz iii feel I know and love. I had an email exchange with the company for some help with my shipment and they went above and beyond to help. They just earned a repeat customer.
Great picks, just not for me.
Great picks, but not for me. I forgot how small these guys are. I ordered them on a whim just feeling like trying some other picks for recording. I know there are plenty of people who swear by these, but I'm not off of those folks.
Birthday present
Very quick and efficient delivery!